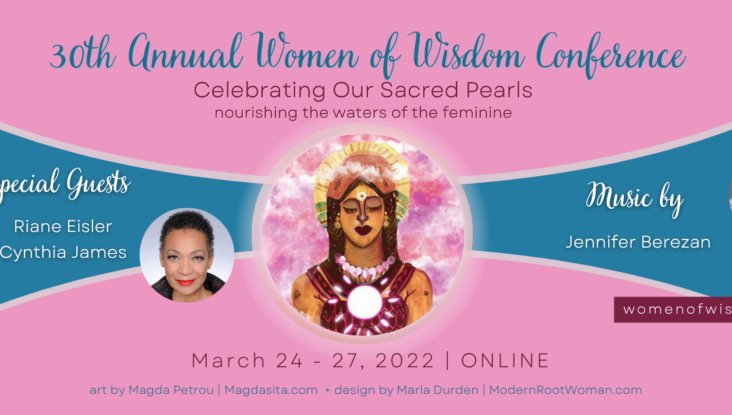 Event Details
Start Date

03/24/2022

End Date

03/27/2022

Location

Online
We invite you to join us for this exciting three day event, where women gather together to share their stories, witness each other and express the divine feminine within all of us. We're so excited to share our program with you -with fabulous presenters and workshop topics that will inspire you!
Conference Early Bird Pricing through February 15th, 2022
Price Includes a one year membership to Women of Wisdom: $35, or $25 for Seniors & Students
    Member Price Full Weekend Price $130
Senior/Student Member Full Weekend Price is $100
 
Prices after February 15th, 2022
Price Includes a one year membership to Women of Wisdom: $35, or $25 for Seniors & Students
   Member Full Weekend Price after February 15th: $155
   Senior/Student Member Full Weekend Price after February 15th: $125

Non member Weekend Price:  $195
Registration will close Wednesday, March 23rd at midnight
Note: If you already are a member or a sustaining member through March 2022:
We will send you the payment link for an adjusted weekend price.
If you don't receive this, please contact us at womenofwisdomseattle@gmail.com
NEW TO WOW: everyone can participate in pre-conference activities in our Whova App.
You will be sent information about these special opportunities to meet other participants.
MEMBERSHIP TO WOW:
We encourage you to become a WOW member to support our mission!
Membership is valid for One Year and will include benefits to attend other WOW Events
Click here to become a member: WOW Membership
Click here to view the agenda: 2022 Conference Schedule
Click here to view our presenters: Presenters
You will be sent a list for what supplies you need for your workshops. It will also be posted here by the beginning of February.
Important information about our online conference:
This year's conference will be on the platform Whova which integrates zoom into their system.
After you register, you will be sent information by mid February on how to access the Whova platform and the conference sessions. You will need to sign up on Whova with the same email you register for the conference, and create a password (which only you can use to enter the conference site).  You will create a profile so other participants can get to know who you are and interact with you, even before conference starts.
We are an experiential event and because of that we want everyone to be there in person so you get the full benefit of meeting other participants and having meaningful experiences.
Workshops are 2.5 hours long and will have break out rooms for exercises and discussions.  Workshops will be recorded for the presenter's content, but the personal, interactive break out rooms are not recorded.
It's important to be there at the beginning of the workshop for the continuity for the presenter's program because of the intimate nature of our workshops.
All the other events –  panels, evening presentations, community boards, dancing, etc.  are open to everyone who's registered for the weekend.
You'll be able to access recordings of other workshops that occur at the same time as yours so if you have trouble choosing you know you won't miss out!  Video recordings will be available as soon as Monday, March 28th and you can view them for 3 months. After the conference is over, you will need to have the Whova mobile app to access the recordings. We'll provide information about this when the conference ends.
WOW! That means if you show up for your 2 workshops on Saturday, you would be able to view 6 other workshop recordings from our fabulous presenters! And if you missed the evening talks they will also be available to listen to after the conference. 
There is a community board where you can connect one on one with a friend or make a new friend! Perhaps you want to continue a discussion with someone from a workshop! You can also join or start a group circle on a topic you want to discuss. Attendees can interact with each other even before the conference when we launch it at the beginning of February!
The Whova platform will be available through June 30th, which includes the Community Board where you can interact with other attendees, post articles, share inspiration, and create meet ups there.
More information will be sent to you as we get closer to conference.
We're so excited about this year's conference and look forward to see you in March!