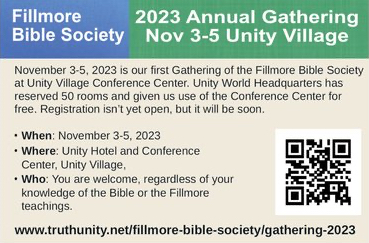 Event Details
Start Date

11/03/2023

End Date

11/05/2023

Location

Unity Village
Save the date: November 3-5, 2023 is our first Gathering of the Fillmore Bible Society at Unity Village Conference Center. Unity World Headquarters has reserved 50 rooms and given us use of the Conference Center for free. Registration isn't yet open, but it will be soon. Scroll down to learn more.
Let me explain why this conference is important to Unity churches and why I'm announcing it this week.
It's important because the study Bible is the most powerful way to reach and serve Christians today. If one is available, people turn to the Bible when they are troubled. If the Bible is a study Bible—one with annotations—it can lift the Spirit of a troubled soul in unique ways. And it can do it anytime, any day, anywhere.
One hundred sixty copies have been sent out to those who I believe will find it most helpful. In other words, I have planted 160 seeds within the Unity movement, thanks to generous donors and thankful visitors to TruthUnity. These 160 copies will have a long shelf life; it's not unusual for books, especially Bibles, to remain on bookshelves for decades. The impact of these 160 seeds is not known, but my sense is that their impact over time will be immense.
I am announcing it this week because an additional 350 copies are now sitting at Unity Village, ready to be distributed this week, one free copy to every registered attendee of the Unity 2023 Convention. By the end of June, over 500 copies of The Fillmore Study Bible will have been distributed, each with a shelf life of decades and each with the potential to provide spiritual guidance to people when they are troubled.
I've been given the opportunity to speak at a general session of the convention this Tuesday (my 70th birthday). Here is what I'm going to tell them: all visitors to Unity churches want to know two things: What is Unity? and How is Unity different from other churches? I'll be talking about how we can answer these questions. But no answer is as good as handing someone a Fillmore Study Bible—a gift that allows the person to read and process Scripture guided by the wisdom of Charles Fillmore and his students.
Sometime in July distribution of the FSB will switch to Ingram, the world's largest book distributor. Hopefully, it will then be available on most online sites, in all countries. Soon after that I will order an additional 500 copies from a printer in Maryland for stocking Unity bookstores. So the FSB will begin showing up online, in bookstores and libraries. Hopefully, the Fillmore Study Bible will be found on your bookshelf, available to you when you and those in your household most need it.
I believe we will be ready by November to expand our focus from annotating the Fillmore Study Bible to organizing the Fillmore Bible Society. That is our next step. I hope to see you there.