Event Details
Start Date

12/11/2020

Start Time

09:00 AM

End Date

12/11/2020

End Time

12:00 PM

Location

Online Zoom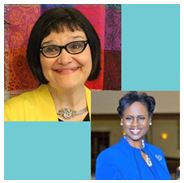 Training: Sexual Harassment in Church? For Real?!
This Zoom training will share information about the definitions of sexual harassment and cover church-related issues in regard to this topic.
Join facilitators Rev. Deb Hill-Davis and Rev. Wilma Taylor-Costen in this interactive training where we discuss possible scenarios that a minister might encounter in church.
Other topics to be discussed include boundary issues, being a mandated reporter, and safeguarding children and other congregants. A panel of experienced ministers in the Great Lakes Region who have faced harassment issues in their church and have walked through other ethical challenges will offer guidance and support.
This training will be held on December 11, 2020, 9-11 a.m. (CT). CEUs are available. Register at greatlakesunity.com. Contact Rev. Christina Garza for more info.