June Dillinger is a motivational speaker and transformation coach. Her message inspires participants to live more rewarding lives by transforming challenging experiences into loving outcomes. A central theme in June's life has been the importance of having healthy, loving relationships
On February 11 her  book launch will be active on Amazon. Here is the link for the e-book which is only $.99 right now. The hardcopy will be $5.95 for about five days then raise up to its price of, $13.95. It's a masterpiece after 14 years of work! You are welcome to follow her on Facebook or Instagram as well.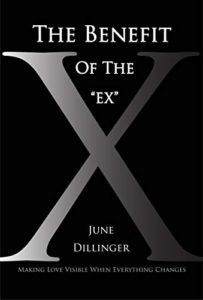 The Benefit of the Ex: Making Love Visible When Everything Changes shows you how to reap the rewards, thrive, and come into your own after ending relationships that no longer serve you—all with an unapologetic boldness where everyone somehow wins!
If you're in a relationship where you can't be yourself, you're playing a role in your own life. If your most emotionally life-sustaining needs aren't met, you've settled to merely exist. If you feel like each day you're losing a piece of who you are, one day you will disappear altogether.
The Benefit of the Ex shows you how to be authentic for yourself and for the benefit of others. It awakens the sleeping spirit within you that has accepted existence as a normal way of life and reminds you to flourish and shows you how. This book directs you to build yourself back up by pulling together all of the lost pieces in order to create a stronger version of you.
Author June Dillinger has not only been bringing couples together from every background in blissful matrimony as the officiant and owner of I Do Hawaiian Weddings for over a decade, she is a Licensed Unity Teacher. Having served over 5 years, she did volunteer work as a minister in a men's correctional facility in Honolulu Hawaii, edifying the inmates.
And yes, June has benefited from her ex, and shares candidly about how this has helped to shape her into the human being that she is today. Her wisdom and experience with people from all walks of life will inspire the core of who you are in order to be rewarded, to thrive, and to come into your authentic self.