Right Where Pain Seems to Be, God IS! by Angela Davis
"God whispers to us in our pleasures, speaks to us in our conscience, but shouts to us in our pain: it is [Its] megaphone to rouse a deaf world." ~ C. S. Lewis
"Happiness, joy, and love are a great sign of God's presence." ~ Unknown
Driving long distances sometimes gives me a pain in my shoulders from the stress of being on the road and having to be attentive for a longer period of time while traveling.  One day as my shoulder began to hurt, I remembered a lesson I learned a long time ago when I used to have pain in my knees as the seasons changed and the days grew colder.  It seemed I could tell when it was going to rain. My knee would start aching before the rain came!  Interestingly, I remember as a little girl and into adulthood, my grandmother often complained about her aching knees. Back then, I learned this simple phrase: "Wherever pain seems to be, God is."  God is everywhere, so I affirmed that principle–especially that God is right there with my knee.  I'd see and feel God's presence, and the pain would disappear!  When my shoulders started bothering me on that long drive, I began reciting that phrase.  Later in the day, I realized that my shoulders were no longer aching. It was amazing!
When I was a child, my dad suffered from sinusitis. As a teen, I developed the same issue. To remedy the situation, I sought the help of a chiropractor who performed an adjustment on my neck, and I never again experienced sinusitis. It seems to me that when we make up our minds to stop having issues with pain and hurt, the pain and hurt disappear. I attribute this to God's work on the inner where there are things we cannot see or know, but God knows and is present the very moment we remember that "God IS!" Yes, in every circumstance, situation, or predicament, God is always there! Wherever you are, wherever your need is, whatever you have need of, God is! God is not just with us, God is a very present help with everyone.
So many times I've placed my children in God's wonderful care. Beginning with the times they left home until they safely returned, I affirmed God Is!  Shucks, I place myself in God's amazing care everywhere I go.  I have friends, who frequently wonder about my safety.  I've been all over this world, and I know that God is always with me!  There is no place I haven't been where God was absent!  As I write this, I'm smiling because there are times when I forget where I place things, but God doesn't forget. As soon as I pray, I find what I've been looking for.  I don't know what I'd do without my backup, my beforehand, and my "always need me, some God", with me in any moment, at any time, no matter what addles, irks, or surprises me. There has never been a time in my life that I have not needed God. God is my sure and constant companion that I cannot do without. I am ever so grateful that I have this power from on high always in my corner, by my side, helping me to get through anything that I face whenever I ask. I encourage everyone to thank God for all the little things, the smallest requests, the aches, the pains, the frustrations, the good, the bad, the ugly, the unforeseen, the known, and the unknown!
Here are two experiments that work for me:
Simple Experiment:  When experiencing pain of any kind, surround its energy with the light of God, and give thanks knowing no pain is greater than God.
Advanced Experiment:  Sit with pain and in your mind's eye, imagine what color it is. Now imagine its shape. If pain had a voice, imagine what it would say. If pain had a need, imagine what it wants—what it is trying to reveal to you. Now surround it with God's light and love.
Truth Moment
Today I stop fighting pain.  I realize that there are some things over which I have absolutely no control.   At this moment I draw closer to the Divine Creator that is everywhere, especially right where I am and where pain seems to be.  I step into this shower of loving joy and peace and feel an abundance of love pouring over me, healing everything in its wake.  I am a Divine Being of good, love, and light, and my spirit glows with well-being.   Great Power is available to me anytime I need It and I am divinely restored and well-being sings in me! 
To your greatest joy and well-being!
Angela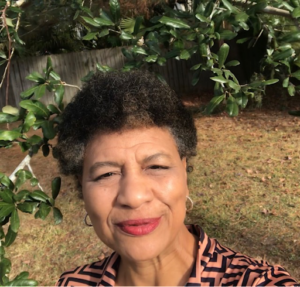 Angela Davis is a first-year student at UUMS and a student of Unity for more than thirty years. She is a gifted writer, storyteller, elocutionist, and world traveler. She has visited more than 120 countries. She is a member of Unity of Baton Rouge, where she currently serves on the board of directors. This article is excerpted from her "Weekly Uplift" e-newsletter which she started in 2008.