Let us join our hearts, minds, and voices in celebrating eight newly licensed/ordained Unity ministers—Revs. Julia Baginski, Linda Burdett, Ann DeMichael, Sue Frederick, Rick Horsey, Patrick McCaghren, Velma Spence, and Robert Turner.
On Monday, June 13, 2022, these graduates of the Class of 2022 walked across the stage to receive their diplomas from Rev. Sandra Campbell, UUMS Executive Director. In a separate ceremony that followed, those, newly dubbed UUMS alumni graced the stage as they were presented their Unity stoles and "Reverend" confirmation by Rev. Shad Groverland (2015), Executive Director of Unity Worldwide Ministries. The mentors presented them with their Bibles as they exited the stage.
Rev. Rick  Horsey delivered the commencement address for the UUMS Class of 2022.
Prior to the official recognition of the 2022 graduates, several who were ordained virtually in 2020/2021, due to the pandemic, were formally presented. Among them were Revs. Chris DiGiorgio (UUMS 2019) and Ken Fendrick (UUMS 2020).
A number of UUMS alumni, faculty, board members, staff, family, friends, and mentors proudly cheered as they witnessed this significant accomplishment.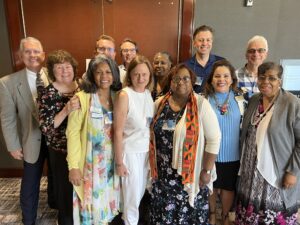 Rev. Sandra and her husband, Phil, held a gathering in their home for UUMS alumni, students, friends and family on Sunday, June 13.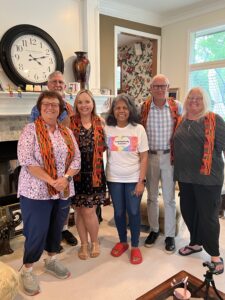 Graduation & Ordination shots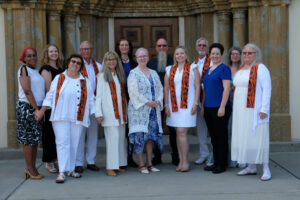 The group assisted Rev. Sandra in creating the letters for the UWM Convention Cheering Team that kicked off the "People Get Ready" Convention opening on Monday night, June 13.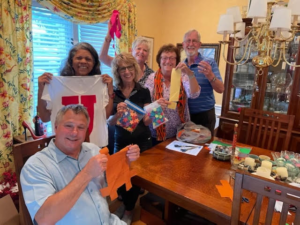 It was a family reunion at convention as UUMS alumni, students, faculty, staff, and friends reunited in person for the first time in three years.