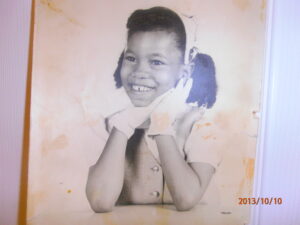 As a child, Easter was a highlight of my Sunday experience. Weeks before the Easter season began, my mother would search the store catalogs and newspapers for that year's chosen colors for the Easter dresses. They were always pastels—pink, yellow, lavender, green… Mama would take me from one store to the other uptown on Minnesota Avenue—aka "The Avenue," in Kansas City, Kansas, looking for just the right dress, shoes, and accessories. Hat, gloves, and patent leather shoes were always in fashion. What I would be wearing on Easter Sunday seemed more important than any other Sunday in the year. I could hardly wait for the day to arrive when my friends and I would come together in Sunday School wearing our best dresses and the boys in their brand-new suits. It was a fashion extravaganza. We were so focused on what we were wearing that we hardly paid attention to the real meaning of Easter. The biggest event was that evening. After service, we all returned home for dinner and then back to church that evening for all of us children to deliver our "Easter speeches." We would line up from the youngest—barely able to walk or talk—to the oldest—just entering puberty. The little ones would sometimes cry from embarrassment when all eyes were on them. They would fidget with their hair or their clothes or shift from one foot to the other. Sometimes they would cry, while mothers, fathers, grandparents, aunts, uncles, cousins, church members fawned over them: "Go ahead, baby, say your speech…That's my baby…ain't she/he cute…"
Someone would say a few simple lines and give them time to echo them back. Among the most popular speech for those too little and experienced with words was "Jesus wept." I fondly remember as a 5-year-old how nervous I was standing before dozens of adults staring and smiling anxiously as I struggled to remember my lines. The words of the first speech I recall were quite simple:  "I just came to say, happy Easter Day!" Getting our pictures taken for Easter was also a treat.
The Black-and-white picture of me at age 10 in my Easter outfit was taken at the uptown Rembrandt Studio. Notice the hat and gloves.
Those were the good old days and some of my fondest Easter memories. When I aged out of the Easter speech program, my parents and those of my cousins would drop us off after dinner to an uptown movie theater to watch that year's Easter feature.
Those long-ago Easter experiences bring fond memories, and dressing up is something I always enjoyed. But now I realize there's so much more to Easter than the fashions, speeches, and celebrations from my childhood.
The word "Easter" does not appear in Scripture. According to Charles Fillmore, Unity co-founder, the word represents "awakening and raising to spiritual consciousness of the I AM in us, which has been dead in trespasses (to commit an offense against a person or set of rules) and sins (falling short of divine perfection), and buried in the tomb of materiality (limitation of the four-dimension world which has no permanent existence and will soon come to an end)."
As Mark Hicks writes, "Easter is not about something that happened 2,000 years ago. Rather, it's about something that is happening now…it's not about Jesus so much as it is about you and me."
Mark refers to Rev. Eric Butterworth's message on Easter Sunday 1979*:
"I have a feeling that there is something in the Easter story that says to each of us, "I want to live in you." I don't want you to just talk about it. I don't want you to sit back and sing songs about it and listen to the story and go on your way and say, "Ho, hum, another Easter." Let's go out and see the people on 5th Avenue."
Rev. Butterworth suggests that Easter should not be complicated with the thought that Jesus showed us how to resurrect from the dead…but that "Jesus demonstrated for you and for me and for all persons who have eyes to see and ears to hear, that if we lift our eyes and look out the right window, we can see allness in illness,…all sufficiency in insufficiency,…full potentialities even in limitations, and…find the key to overcoming and…victorious, transcendent life."
In John 10:10, Jesus tells the disciples "The thief comes only to steal and kill and destroy. I came that they may have life and have it abundantly." The thief Jesus was referring to represents our anxious and fearful thoughts that tend to rob us of our happiness, kill our joy, and destroy our inner peace.
Easter reminds us that to live abundantly we have to let go and rise above whatever no longer serves our highest good.
This Easter, may you find perfect peace in the depth of your soul by focusing on the simple things for which to be grateful. It's not about the fashions. It's about the freedoms we often take for granted—the air we breathe, the beauty of nature, freedom of speech, freedom of religion, freedom of the press. We live in an abundant universe. Let us clothe ourselves in right thinking and right action so that we can enjoy the richness that Easter has to offer.
"The thief comes only to steal and kill and destroy.  I came that they may have life, and have it abundantly" (John 10:10).
Happy Resurrection Day!
*Excerpted with permission from Mark Hicks. To read or listen to the entire talk, go to TruthUnity.net.