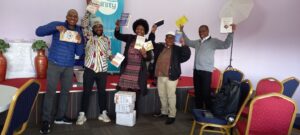 The BOOKS HAVE ARRIVED !!!!  THANK YOU, GOD, AND THANK YOU ALL !
Last Sunday we had the Blessing of the Books Prayers .
On behalf of Unity Centre of Love and Light we are deeply grateful for our new Unity Library that is developing. Our candidate Ministers are thrilled and are already using the prescribed books for UUMS . We have also received the beautiful messages and the letters. The students will respond to the messages individually .
Rev. Thandi Nhlengetwa
Senior Minister
Unity Centre of Love and Light
Johannesburg, South Africa
The UUMS 2022 Interns completed their 9-months internship on April 30, 2022. During the last ten weeks of the internship, the cohort group has to come up with a project to support and leave a legacy for UUMS. Upon hearing about the textbook dilemma of South African classmates, the eight interns developed a strategy to create a library at Unity Centre of Love and Light in Johannesburg. With approval of the UUMS Executive Director and the Senior Minister of Unity Centre of Love and Light in South Africa, donations of books and money, they poured their hearts and souls into this project. Each shipment included their pictures and personal letters of encouragement to their South African classmates. Thanks to Marleen Horsey's phenomenal organizational skills and to the U.S. Postal Service, this massive undertaking yielded amazing, life-changing results that will have a lasting impact on Unity's reach around the world.