Sue Frederick is a professional Career Intuitive and author of I See Your Dream Job, I See Your Soul Mate & Bridges to Heaven: True Stories of Loved Ones on the Other Side. She helps people see the work they came here to do, the love they came to experience and how to manifest it. She connects grieving people to their departed to help them heal. By using her powerful intuitive gifts combined with ancient mystical teachings & practical career coaching, she offers clear guidance in her sessions & workshops. Her training programs teach people just like you to become Intuitive Coaches & use their intuition to help others find their true work & their true love, and to help grieving clients heal.
Check out her books below which could be purchased at: Amazon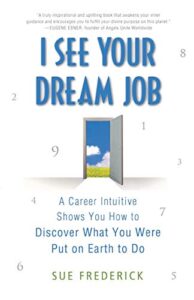 I See Your Dream Job:
For anyone in a dead-end job, stuck in a rut, or out of work, this timely and ground-breaking book is the solution! Have you ever wondered what you were truly meant to do in life? Have you ever felt that you have a higher calling? Let career intuitive Sue Frederick show you the way. In this first-ever book to combine ancient mystical teachings with current career knowledge, Sue reveals how to read destiny clues (the way she reads them for clients) and create a practical plan for moving forward. She illuminates the negative patterns stopping you in your tracks and teaches you to remove them. You walk away with a fresh perspective on your life's direction, and a realization of how powerful you truly are. I See Your Dream Job is a book for anyone who: Feels stuck in a job, feels unfulfilled at work, questions if they're on the right track, yearns to do something more creative, dreams of a different path, has been fired, has been downsized, is underpaid and underappreciated or simply wants something different. "A must read for everyone who would like a step-by-step approach to discovering their life's purpose." – Leslie Gail author of a Life Simplified
I See Your Soul Mate:
According to author Sue Frederick, an intuitive since childhood, we've all come here to accomplish a great mission. Honoring who we came here to be opens the door to allow our soul mate to stand beside us. In I See Your Soul Mate, Frederick teaches how to use intuitive recognition to guide you flawlessly to love through your own powerful reinvention. In this book, you'll find ways to: Discover why you are not attracting the right kind of person and how to remedy that, uncover psychic blocks that keep you from finding true love, identify the qualities, energy patterns, and careers that will put you in the path of "the one", understand why your relationships never last longer than a few months, learn intuitive dating techniques, hone your intuition to make better choices for your love life in the future, immerse yourself in accomplishing your soul mission so that you're naturally attractive to the right person, see your future soul mate by accessing powerful dream guidance, find true love!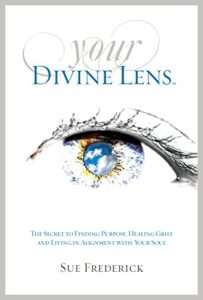 Your Divine Lens: The Secret to Finding Purpose, Healing Grief and Living in Alignment with your Soul
We each come here with a great soul intention to live up to our greatest potential, line our lives up with our highest self, and do great work that helps others. We hit bumps in the road; loss, illness, financial challenges, childhood pain and relationship turmoil. When we align our ego mind with the wisdom of the soul – we step into our power. We see the hidden beauty of each painful moment; we understand the purpose of each perfectly designed challenge. We know exactly who we are and how to move forward to our great potential. This is the beauty of your Divine Lens. You can access your Divine Lens at any moment. It's a simple shift of perception: Here's how…
Bridges to Heaven: True Stories of Loved Ones on the Other Side
Death is not the end. In fact, your loved ones who have passed are watching you, helping you, and healing you-though you may not know it. In this highly emotional book, lifelong intuitive Sue Frederick takes you through the process of connecting with the other side to: Use your intuition to understand that your loved ones are at peace, see into the other side to feel and release your pain, help loved ones cross over, use your own birth path number to discover what obstacles you might have on this journey and how to overcome them, understand a bigger view of spirituality and what happens after life, and so much more
Filled with heartwarming, reassuring stories of Sue's own experiences and those of others, Bridges to Heaven is a landmark book about grief, mourning, death, and life.
Water Oak: The Happiness of Longing – A Memoir
Turning 40, Sue Frederick thought she had lost everything. She was widowed, childless and heartbroken. When the married man she was seeing walked away, her escalating sense of failure launched her on a spiritual seeking journey while still working a 50 hour a week job as magazine editor. Her awakening to the perfection of our imperfections and the beauty of our chaos is what this book is about. Told with warmth and style, this memoir offers hope; hope that losing everything is often the way to finding what matters; to building something new and better from our losses. The book empowers us to ask different questions and take the path less traveled to forge our unique story.
Dancing At Your Desk: A Metaphysical Guide to Job Happines
This book goes way beyond all the other career books: It actually works! The unique combination of mind-bending career exercises and energy techniques for finding your true work creates a formula for success that can't be beat. Used successfully at Naropa University and University of Colorado, this cutting-edge approach guarantees success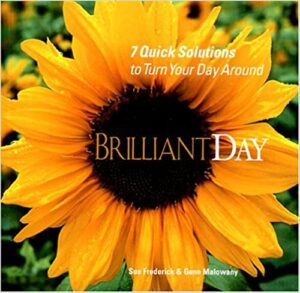 BrilliantDay: 7 Quick Solutions to Turn Your Day Around Paperback
Spend 15 minutes with this powerful little book and it will turn your life around. Brilliantly designed and executed, this handsome gift book guides you through a step-by-step process that lends a new perspective, helps you make positive changes and is guaranteed to inspire and delight. If you read this book every morning for 21 days, you'll create an entirely new pattern for living. The life you really want will be yours. It starts today when you order BrilliantDay: 7 Quick Solutions to Turn Your Day Around.
A Mother's Guide to Raising Healthy Children—Naturally
"A wonderful book for any mother interested in enhancing her child's health. Replete with natural and effective things to do for common childhood problems such as colds, fevers, sore throats, etc.; it is also an overview of the benefits that natural medicine has to offer you and your child . . . A great book to have on hand before and after your child arrives." — Janet Zand, IAc, OMD, author of Smart Medicine for a Healthier Child and Smart Medicine for Healthier Living "Children may not come into the world with an instruction book, but Frederick's book is a good place to start to learn how to use foods, nutrients, natural medicines, and simple spiritual advice to raise a healthy, wise child." — Dana Unman, MPH, author of Homeopathic Medicines for Children and Infants and Everybody's Guide to Homeopathic Medicines A Mother's Guide to Raising Healthy Children–Naturally provides the necessary building blocks for you to help your child thrive in body, mind, and spirit. Based on up-to-date, practical advice from top experts in the field of natural medicine, this essential resource will answer your questions and allay your concerns and fears about numerous health decisions-from the benefits of breast-feeding to the diversity of views about immunizations to natural approaches to common childhood illnesses. Sue Frederick has been an editor and writer in the natural products industry for many years. She is presently the editor-in-chief of HealthShop.com, an educational resource Web site dedicated to bringing helpful and scientifically accurate health information to the consumer.