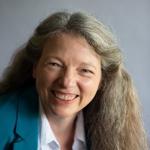 Rev. Liesa Chase
Meet Rev. Liesa Chase
by Rev. Wilma Taylor-Costen
Rev. Liesa Chase (UUMS 2017)—aka "Rev. Chase," is featured because of her outstanding service and career in Unity Worldwide Ministries at the local, regional, and national levels. Her knowledge, strength, courage, and wisdom are matched by her unwavering commitment and passion for the sustainability of Youth and Family Ministries. This phenomenal UUMS alumnus is a woman of strength and tenacity. She demonstrates the characteristics of a servant leader, which according to Robert K. Greenleaf, is a person who focuses on enriching the lives of an individual or improving the community they serve. Rev. Chase is all of that and more. A self-described helper, supporter, listener, and leader, she is also a teacher, visionary, spiritual activist, and peacekeeper. Her dedication to the Unity movement has spanned more than three decades as she has served as a Certified Spiritual Leader, Licensed Unity Teacher, Director of Youth and Family  Ministry (YFM) and Associate Minister at Unity of Dayton, Ohio, Director of Training for YFM Great Lakes Region, and most recently, and IT Help Desk Coordinator for Unity Urban Ministerial School.
Rev. Chase's knowledge, strength, courage, and wisdom are matched by her unwavering commitment and passion for the sustainability of YFM worldwide. During the most recent disruptive time in our nation's history, when the world sheltered in place, churches and spiritual centers were shuttered, Rev. Chase used her technological skills to develop programming that made it possible for YFM in Great Lakes and neighboring regions to remain connected in their practice of Truth principles.
Using Zoom, Rev. Chase enabled students to gather online for classes, Y.O.U. events and celebrations. She facilitated online meetings, training, and support for directors and teachers, reminding participants of the presence of God in the midst of the global pandemic.
Rev. Chase earned a Bachelor's degree in Mathematics and Computer Science from Wright State University and worked for 22 years as a software engineer—a traditionally male-dominated career path. Her skills, passion, and drive on the job helped to change traditions and cleared the way for the success of the next female software engineer. Rev. Chase continues to enlarge her territory by being committed to "Being Family" and following Spirit's guidance in giving to the Unity family and building her spiritual foundation through prayer and peace.
Rev. Chase shared the following instructions for spiritual practice:
Take a moment to breathe in the accomplishments and comprehend the lives that your work has impacted. Then breathe, move, rest, and go again.
Listen to the heart and core of a person.
Embrace the emotion; connect with your emotions!
Affirm "As I walk in faith, my way becomes clearer." Myrtle Fillmore
Rev. Chase is the recipient of the 2022 Distinguished Youth Service Award by Unity Worldwide Ministries. She and her husband, Bob, are the proud parents of two daughters, Isabelle and Georgia. She enjoys hiking, gardening, and everything connected to nature. Rev. Chase feels spiritually connected with the joy of the hummingbird, flittering, moving fast, collecting sweet nectar of life, and going places. Her favorite colors are orange and blue. Rev. Chase hails from a family of ministers, including a grandmother and an uncle, and her sister serves her church in a spiritual leadership role.
Anyone who has the opportunity to be in Rev. Chase's presence will soon feel blessed by her powerful and peaceful countenance. Engaging in conversation with her is like walking a labyrinth, leaving one feeling inspired, lightened, and at peace at the end. After an hour-long conversation, I paused in gratitude for all that Rev. Chase has contributed to the world and all that I know she has yet to accomplish.
If I can think of a scripture that describes Rev. Chase, it would be this:
"She is clothed with strength and dignity, and she laughs without fear of the future. When she speaks, her words are wise, and she gives instructions with kindness." Proverbs 31:25-26
Thank you, Rev. Chase, for sharing your story.
Rev. Kirti Cesaratto (2019) and her team invite you and your congregation to join their Spiritual Business Connections Group on the second Thursday of each month from Noon to 1pm CT. The featured speakers share how to align spiritual principles and business/personal growth opportunities. Jim Blake, CEO of Unity World Headquarters, is the featured speaker for the March meeting. He will discuss his book, The Zen Executive: Gems of Wisdom for Enlightened Leadership. The book contains commonsense ideas for aligning business practices and ancient spiritual principles. The gems of wisdom will boost innovation, creativity, and productivity in all areas of your life. A video and brief description of Jim and his book can be found on the attached video.
About the author: Jim Black has held numerous corporate executive positions, including Director of Customer Operations for Landis+Gyr, a global leader in the utility industry, and Vice-President of Products and Technology for Rhythm Engineering. He has a Bachelor's degree in computer science from Central Methodist University and a Master's of Divinity from Johnnie Colemon Theological Seminary. He was ordained as a Unity minister in 2021.
Join the meeting at:
https://us06web.zoom.us/j/87191555575?pwd=ajAzcWIydWhiOUNQS2NPY05RNmg2QT09
The Business Connections Group is also looking for group leaders and speakers for future meetings. If you or anyone you know is interested, contact Rev. Kirti at (281) 744-0219.